CAMARO CHEVELLE CORVETTE NOVA 302 307 327 350 ENGINE LIFT BRACKETS HOO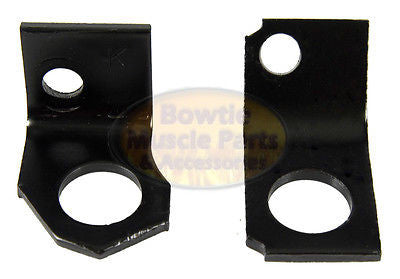 CAMARO CHEVELLE CORVETTE NOVA 302 307 327 350 ENGINE LIFT BRACKETS HOOKS SS Z28
Description:
CORRECT (PRE-1971) SMALL BLOCK ENGINE LIFT BRACKETS
Bracket on left in picture above mounts on passenger side rear intake manifold bolt. Bracket on the right mounts on driver's side intake manifold bolt 2nd from the front. Note: Brackets are upside down in picture.

Replace your missing or incorrect engine lift brackets with these accurate reproductions. Made of heavy stamped steel and include original markings. These were painted Chevy Orange from the factory even if running a GM aluminum manifold. Correct for all small block V8 (283~350) produced from 1965 through 1970. These are the small details that will set your restoration apart from the crowd! Order a set today!
Best Sellers