64-74 CAMARO NOVA CHEVELLE IMPALA CORVETTE IGNITION COIL BRACKET W/MTG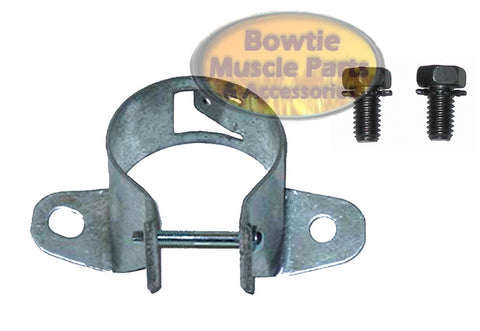 64-74 CAMARO NOVA CHEVELLE IMPALA CORVETTE IGNITION COIL BRACKET W/MTG BOLTS
Description:
COIL BRACKET AND MOUNTING BOLTS
New coil bracket and mounting screws for multiple applications pre-1974 (pre HEI). Will work for small and big block applications. Includes new sliver zinc plated coil and bolts with special star washers for mounting coil to intake manifold. Don't put mis-matched or rusty parts on your classic! Used on most GM vehicles throughout the 60s and 70s that used an external coil (not for HEI distributors).

Some vehicles that used extra large air cleaners (69 Camaro with Cowl Induction and 70 Z28 dual snorkel air cleaner) had a coil bracket with a steeper angle to clear the air cleaner base. Ours will work but may contact the air cleaner base once installed.

Bolt's look a little dark in picture but they are actually silver zinc plated like the bracket and as originally came from the factory. Bolts come without any head markings.

Sold as a set, 1 coil bracket with screw and two mounting bolts.


Best Sellers