Other Parts

69 70 CAMARO CHEVELLE NOVA CORVETTE IMPALA STARTER HEAT SHIELD 396 427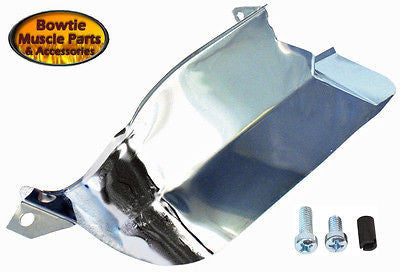 69 70 CAMARO CHEVELLE NOVA CORVETTE IMPALA STARTER HEAT SHIELD 396 427 454
Description:
1969 - 1970 STARTER HEAT SHIELD (BIG BLOCK CHEVY)
OE CORRECT - POLISHED STAINLESS STEEL

Late 60's and early 70's high performance big block engines produced a lot of heat. As a result, Chevrolet engineers introduced GM Part# 3954224 to help protect starters from premature failure due to over heating.   
Bowtie Muscle Parts is proud to offer this factory correct reproduction starter heat shield (and mounting hardware) for the following Chevy big block applications: 
69-70 396-325hp - All
69-70 396-350hp - All
69-70 396-375hp - All
1969  427-425hp - All
1969  427-430hp - ZL1
Also fits all 69-70 Camaro, Chevelle, Nova with 396, 402, 427 or 454 engine.
To simplify installation, we are including mounting hardware including the special slotted retaining nut.  We have also included a page out of the 1969 Assembly Manual showing proper installation procedures. 
This part will also fit other big block applications prior to 69 and after 1970 but may not be technically correct. 
Best Sellers