1967 CAMARO FIFTY START YOUR LEGENDS MEN'S T-SHIRT 68 69 70 71 72 73 7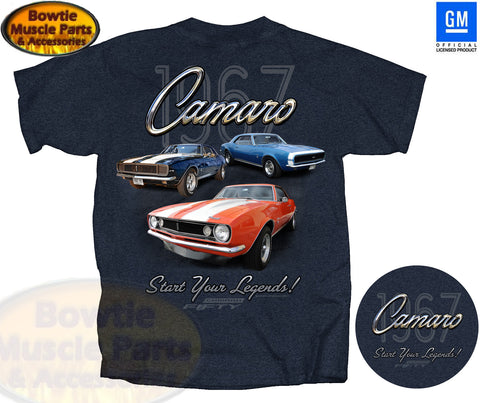 1967 CAMARO FIFTY START YOUR LEGENDS MEN'S T-SHIRT 68 69 70 71 72 73 78 79 2017
Description:
CAMARO "START YOUR LEGENDS - CAMARO FIFTY" T-SHIRT
Any Camaro fan is sure love this brand new design Camaro T-shirt! The back of the T-Shirt features 3 beautiful 1967 Camaros! Front left chest features "1967 Camaro" print. Available only in Navy Blue in men's sizes. Made from lightweight preshrunk cotton. Choose from available sizes above.

Buy with the confidence that you will be receiving a very high quality T-shirt and not some cheap knock-off! This is an Officially Licensed GM Product.
Best Sellers