2010 2011 2012 2013 67 68 69 70 71 87 88 89 92 97 CAMARO DETROIT MUSCL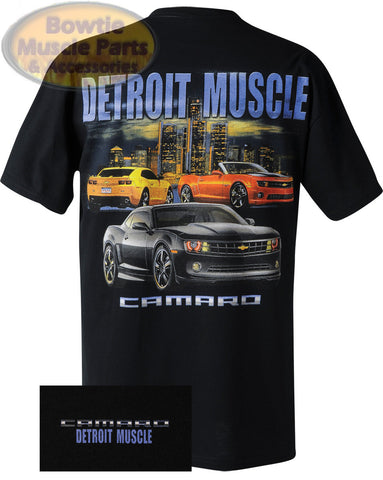 2010 2011 2012 2013 67 68 69 70 71 87 88 89 92 97 CAMARO DETROIT MUSCLE T-SHIRT
Description:
5TH GEN CAMARO DETROIT MUSCLE T-SHIRT
CHOOSE YOUR SIZE ABOVE
Show off your Camaro pride with this exciting and highly detailed new "Detroit Muscle" T-shirt featuring 3 of the new 5th gen Camaros. Including an Inferno Orange convertible, a "Bumble-Bee" Yellow Camaro and a Black Camaro with illuminated halo rings. This is one tough Camaro T-shirt and a must have for any fan of the new 2010-2013 Camaro! Front left chest also includes Detroit Muscle Camaro insignia. 100% Pre-Shrunk Black Cotton.
Authentic GM apparel.
Best Sellers