WINDSHIELD WINDOW MOLDING CLIP STUDS 20 PC STUD SET CHEVELLE NOVA GTO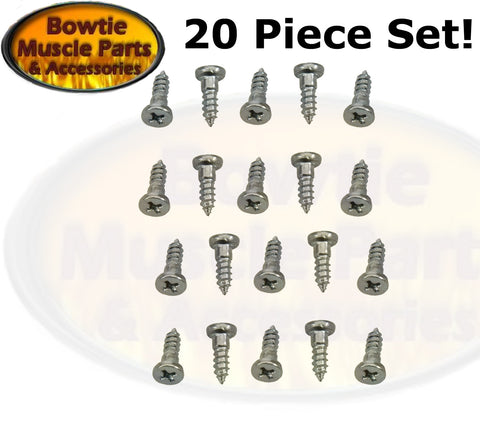 WINDSHIELD WINDOW MOLDING CLIP STUDS 20 PC STUD SET CHEVELLE NOVA GTO CAMARO
Description:
GLASS MOLDING REPAIR STUDS
(20 PIECE SET)
After decades of exposure to the elements, the little studs around your front and/or rear windows that hold the stainless molding trim in place begin to fail. Usually due to rust, the little studs will break right off. Also, if you replace sheet metal around the glass, the studs for the window molding clips are usually not included.
We are happy to offer these window and body molding retaining clip repair studs. Sold in sets of 20 studs. This will allow you to replace commonly broken or rusted out studs with ease. These studs are installed with a Phillips head screw driver. The head of the screw is shaped just like the head of the pin that was originally in your car or truck.
Applicable for most GM vehicles from the 60's and 70's.
Best Sellers