71 CHEVELLE EL CAMINO POSITIVE BATTERY CABLE 402 454 OEM CORRECT GM 89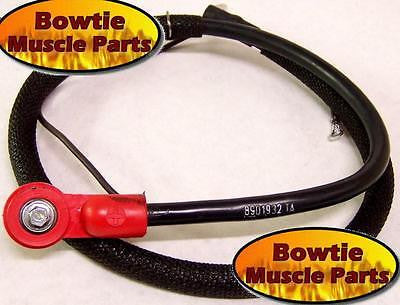 71 CHEVELLE EL CAMINO POSITIVE BATTERY CABLE 402 454 OEM CORRECT GM 8901932 TA
Description:
Excellent quality USA made battery cable correct for the models listed below: 
GM part number printed on cable: 8901932 TA
Correct Side Post Positive Battery Cable for the following:
71 Chevelle, El Camino V8, 402, 454 with side post battery
Includes heat insulation wrap (as shown in pic) just like the factory original!

Approximate length, Post Center to Bolt Center 41.50"
THE FACTS ABOUT BATTERY CABLES:
(Not all battery cables are created equal)

Battery cables, for the reproduction market have become a controversial issue when it comes to quality. Several vendors are now actively producing products to meet the market demand.

Our battery cables are produced with an eye toward quality. Therefore, in order to help our customers in the selection of battery cables we've assembled a list of guidelines that we use in cable construction and you can use in cable evaluation. The technology employed in the production of battery cables may not be readily apparent when you first look at the cables. Original designs and our current reproduction designs must address the following issues:

Wire Gauge - Many production battery cables were produced using 6 gauge wire. During the late 1950's and early 1960's, the demands on the electrical system were not significant enough to warrant larger gauge wire. However, air conditioning, power seats and windows, high compression motors, etc. placed greater demands on the electrical system and the battery itself. Original factory equipment was enhanced by heavy-duty charging systems options. These systems employed 4 gauge and 2 gauge battery cables in production automobiles. In today's world, it is foolish to consider using a 6 gauge cable when a factory heavy-duty 4 gauge cable was available as an original equipment option. Beware of "heavy wall" cable that is nothing more than extra PVC insulation over a 6 or even 8 gauge cable made to look like a 4 gauge cable.

Wire Composition - While the wire gauge is important, the actual copper wire characteristics are also important. The copper wire within the cable is made up of a specific number of individual strands which must be the correct gauge. These strands bundled together determine the current carrying capability of the cable. This is another one of those items that can't be seen on the outside but plays a critical part in the quality of the cable.

Wire Coatings - Most production battery cables were constructed with PVC coating capable of temperature ranges from -40 deg. F to 176 deg. F. This is acceptable for most applications. Unfortunately, there are different grades of PVC coatings that do not provide this range of protection. The difference is not detectable to the untrained eye. Wire coatings are available that provide protection from -60 deg. F to 275 deg. F that are only marginally more expensive to produce. These materials are being used today, and in some cases, were used in the 1970's. All battery cables sold by Bowtie Muscle Parts comply with, or exceed, the original factory specifications for wire coverings.

Mold Quality - Simple things like absence of metal flashing, even mold parting lines, lettering, etc. all contribute to the quality of the finished product. The aesthetic appearance of the product does not affect its functionality. However, this is not a reason to compromise appearance for the sake of reducing the initial tooling costs of the product.

There are many more technical issues to be considered in the construction of battery cables which are beyond this basic discussion. The main point to consider is that compromises made in the product design and raw materials do in fact compromise the quality of the final product. Therefore, you may find a cheaper battery cable elsewhere, but keep in mind you will get a cheap, inferior cable. The last place you want to skimp on quality is your classic car's electrical system!


Powered by eBay Turbo Lister
The free listing tool. List your items fast and easy and manage your active items.
Best Sellers