71 72 CHEVELLE EL CAMINO MASTER CLUTCH PEDAL LINKAGE KIT 327 350 396 4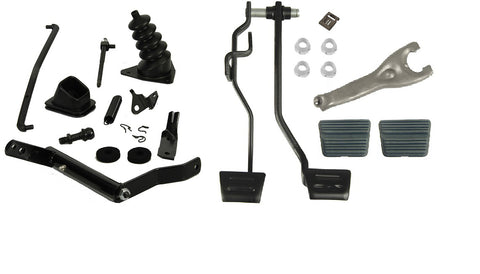 71 72 CHEVELLE EL CAMINO MASTER CLUTCH PEDAL LINKAGE KIT 327 350 396 427 454
Description:
MASTER CLUTCH LINKAGE AND PEDAL KIT  
Perfect for converting automatic to manual transission applications.
You may not even realize it but replacing your clutch linkage kit could do wonders to the driveability of your classic! Decades of use on original components will create excessive slop and gap tolorences in the many pivot points that make up your clutch linkage kit. Replace your clutch linkage today with our quality kits by Classic Headquarters.
Application - Small Block and Big Block: 
71-72 Chevelle 
71-72 El Camino
Kits are complete with all our individually available technically correct components required - from pedal pad to clutch fork. Assembly diagram included. Superior heat treated components with correct protective finishes as original.
Kit includes:
1 Upper push rod
1 Upper push rod boot
3 Rod clips
1 Frame side bracket
1 Block side stud with seal
1 Frame side ball stud with nut and washer
2 Bellcrank felts (only one required)
1 Lower adjustable rod
1 Return spring
1 Clutch fork to bellhousing rubber boot
1 Clutch Bellcrank assembly with installed pivot kit and zerk fitting
1 Clutch and brake pedal assembly with bushings and clip
1 Clutch fork
2 Pedal pads
Best Sellers