69-72 ROSEWOOD WOOD STEERING WHEEL KIT CAMARO IMPALA NOVA CHEVELLE W O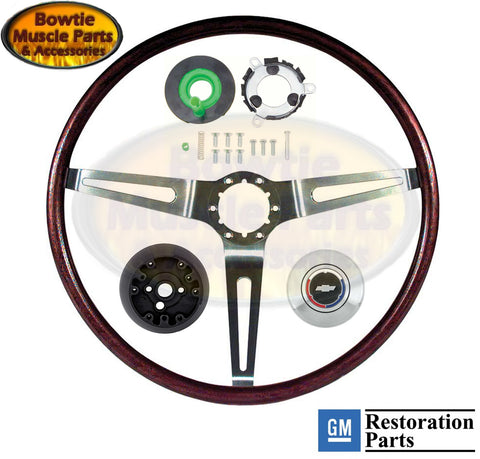 69-72 ROSEWOOD WOOD STEERING WHEEL KIT CAMARO IMPALA NOVA CHEVELLE W OUT TILT
Description:
CAMARO ROSEWOOD STEERING WHEEL KIT
Complete with horn contact kit!
Please select: "With" or "Without Tilt" Steering Column
One of the most sought after options is the highly desirable Rosewood steering wheel. Bowtie Muscle Parts is proud to offer this as a convenient kit for those who wish to add this stylish option to their classic ride!
Model Application:
69 Camaro
69-72 Nova
69-72 Chevelle / El Camino
69-70 Chevy Fullsize
This is a complete steering wheel kit, which includes a reproduction of the original steering wheel which was available as part of the optional RPO N34 package on all 1969 models. This wheel was originally referred by the factory as "Woodgrain Plastic Rim Sport Style Steering Wheel."

This beautiful steering wheel will give you the appearance, feel and status of the original without the high cost of a used original GM wheel. The latest manufacturing methods are utilized to ensure that this reproduction is as close as possible to the original steering wheel and features correct simulated wood wrapped around brushed aluminum center spokes.

Kit includes everything you need to properly install this wheel:
16" Rosewood wood wheel
Mounting hub assembly
Mounting/horn kit (for non-tilt steering)
BowTie logo horn cap
Read other, less expensive listings carefully. Some do not include the horn kit, without it, your horn button will not function.
Best Sellers