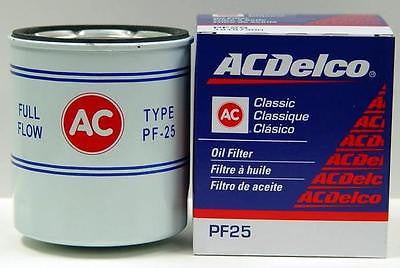 68 69 70 71 72 73 74 CHEVELLE IMPALA CORVETTE CAMARO 302 350 PF25 Oil Filter
Description:
 GENUINE AC DELCO OIL FILTER! CLASSIC PF25
This is a brand new Genuine AC Delco Oil Filter!  Not a reproduction and not some old filter that has been sitting on the shelf for 30+ years. You can actually use this one! This brand new classic series oil filter from AC Delco are designed with the late '60s early '70s style paint scheme and design but include today's filter media found in current AC Delco oil filters for maximum engine protection.  
Correct for all 68-78 Small Block V8 302, 305, 307, 327, 350, 400 with spin-on type oil filter.
We are not sure how long GM will keep these available so order a few today!
Best Sellers