67-70 CAMARO NOVA CHEVELLE IMPALA GTO HAZARD EMERGENCY FLASHER SWITCH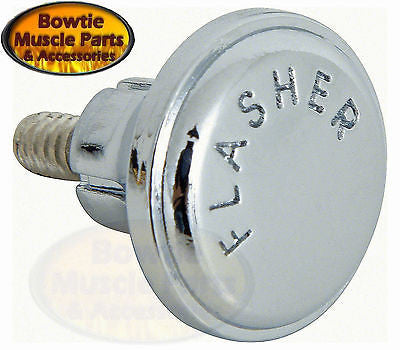 67-70 CAMARO NOVA CHEVELLE IMPALA GTO HAZARD EMERGENCY FLASHER SWITCH KNOB
Description:
HAZARD SWITCH KNOB
This is a high quality reproduction of the Emergency flasher knob. This knob is die cast and chrome plated just like the original and features "FLASHER" lettering on the face of the knob.
Applications:
1967-70 Camaro

1967-72 Chevelle

1967-72 El Camino

1967-70 Firebird

1967-70 Chevrolet GMC Truck

1967-72 GTO

1968-70 Impala

1968-70 Nova

1967-72 Pontiac

1967-72 Oldsmobile

1967-72 Buick
Excellent reproduction of the hazard flasher switch knob designed for use on various GM models. Each knob is an exact replica of the original switch knob manufactured to exact specifications.
Best Sellers