67-69 CAMARO FIREBIRD QUARTER 1/4 WINDOW TRACK STUDS NUTS 4868577 4405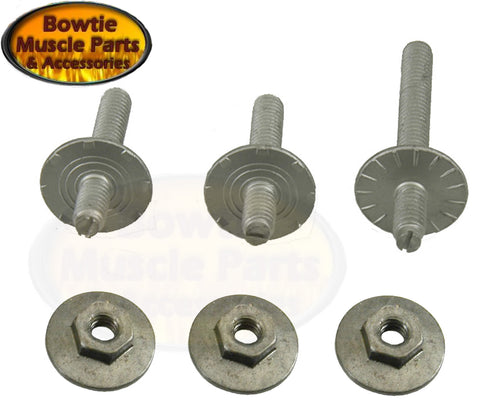 67-69 CAMARO FIREBIRD QUARTER 1/4 WINDOW TRACK STUDS NUTS 4868577 4405501 440552
Description:
67-69 CAMARO/FIREBIRD REAR QUARTER WINDOW TRACK STUDS AND NUT KIT
Exact reproduction of the original quarter window track to body mounting studs.
Model Application  
67-69 Camaro
67-69 Firebird
 Manufactured from plated steel and includes correct oversized, special flange nuts. 
One set required per track, fits either LH or RH.  Order 2 if you need to repair both quarter window tracks.  
2 Upper studs (GM Part Number 4868577 )
1 Lower stud (GM Part Number 4405501 )
3 Special Nuts (GM Part Number 4405524 )
Best Sellers