67 68 69 70 71 CHEVELLE CAMARO NOVA PCV AND HOSE WITH CORRECT MOLDED E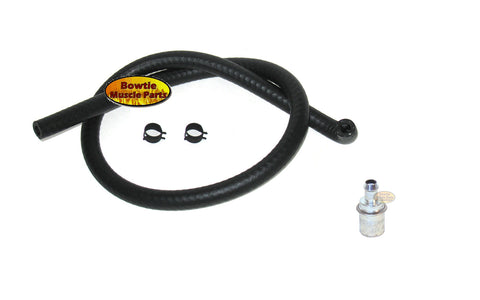 67 68 69 70 71 CHEVELLE CAMARO NOVA PCV AND HOSE WITH CORRECT MOLDED END
Description:
PCV VALVE AND PCV HOSE WITH MOLDED END WITH PINCH CLAMPS 
Having a properly functioning PCV valve is more important than you might think. Because the PCV (Positive Crankcase Ventilation) valve regulates the buildup of excess gases, vapors and corrosive substances that escape from the combustion chambers, a malfunctioning PCV valve will cause these harmful gases to accumulate inside the engine crankcase. This buildup can affect the quality and longevity of engine oil and can lead to sludge buildup, which could ultimately lead to catastrophic engine failure.
This style PCV hose we offer was used on many GM cars and trucks from 1962 - 1976 (where applicable). Hose measures 11/32" X 35" long and has correct 90 degree molded end. Includes 2 correct black pinch clamps. Made in the USA by an original supplier to GM.
Kit includes:
PCV VALVE 
PCV Hose with correct 90 degree molded end
2 correct Black colored pinch clamps
Small details like this will make your restoration stand out above the others!
Best Sellers