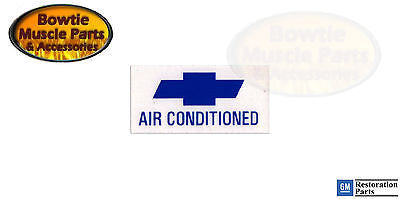 66 67 CORVETTE CAMARO IMPALA CHEVELLE AIR CONDITIONED CONDITIONING DECAL STICKER
Description:
 "AIR CONDITIONED" WINDOW DECAL
Free domestic shipping on this item!


Excellent reproduction of the original Chevrolet "AIR CONDITIONED" decal used on select 1966-1967 Chevrolet vehicles with factory installed Air Conditioning. High quality reverse adhesive decal that would be applied to inside of window.
Decal measures approximately 2 3/4" X 1 3/8". Officially Licensed GM Restoration Part!
Best Sellers