65 66 67 68 69 Camaro Firebird Chevelle Dome Light Base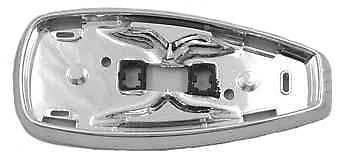 65 66 67 68 69 Camaro Firebird Chevelle Dome Light Base
Description:

DOME LIGHT REFLECTIVE BASE
Add that finishing touch to your restoration project or simply bring a little light back into your interior by replacing your worn or faded dome light chrome reflector base.

Dome light kit fits:
67-69 Camaro (excluding Convertible)
67-68 Firebird  
64-67 Chevelle (excluding Convertible and El Camino)
62-69 Chevy II / Nova with deluxe interior
60-64 Chevy Corvair
Please double check your specific application as some models did not use this dome light due to option choices (e.g. 1967 Camaro with deluxe interior did not use this dome light)
To replace your domelight base and lens simply disconnect the battery. Next, remove the lens cover and two screws holding the base to the roof. Then, gently push the connectors out of the old base. Install in reverse order. Enjoy!

Best Sellers