64 65 66 67 68 69 Camaro Firebird Chevelle GTO Sunvisor Mounting Screw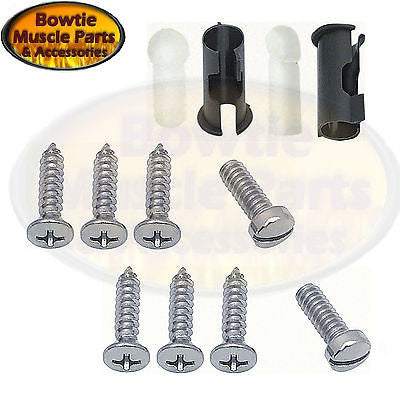 64 65 66 67 68 69 Camaro Firebird Chevelle GTO Sunvisor Mounting Screws Bushings
Description:
SUNVISOR MOUNTING KIT
Everything you need to install a set of sunvisors to the sunvisor brackets and then install the brackets to the car. 
This mounting screw set will simplify the replacement of your coupe's sun-visor supports. Kit includes the screws to mount the sunvisor support to the car as well as the tension screw to secure the visor to the support.
Tired of sunvisors that won't stay put because the nylon tip is gone?
Replace your old sunvisor tips and bushings with these high quality original style replacements which include two rubber sunvisor tips and two plastic sleeves.
Your visors will insert into the bracket the way they were originally meant to!
Model Application:
67~69 Camaro

67~69 Firebird 

64~73 Chevelle / El Camino

64~72 Tempest/GTO

65~73 Chevy II / Nova

70~72 Monte Carlo

65~70 Impala Coupe

65-69 Corvair

69-72 Grand Prix

65-72 Full Size Pontiac

65-70 Full Size Buick

73 Apollo

64-72 Cutlass

65-68 Fullsize Oldsmobile

71-72 Ventura

65-72 Skylark

65-70 Cadillac
Best Sellers