1967 CAMARO 67 FIRBIRD CONSOLE GAUGES HOUSING AND LENS GAUGE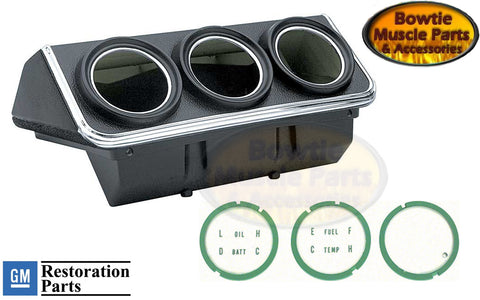 1967 CAMARO 67 FIRBIRD CONSOLE GAUGES HOUSING AND LENS GAUGE
Description:
1967 Camaro / Firebird Console Gauge Housing and Lens
Beautiful reproduction of original die-cast console gauge housing found on 1967 Camaro and Firebird with the console gauge package. This installs directly onto the top front of the console assembly.
Officially Licensed GM Restoration Part®
Also included are the factory correct lenses for the gauge pack. Each lens is a precision, optical-grade clear acrylic lens molded from a hard chrome mold. Each set includes all three round lenses installed on 1967 console gauges.
Each lens includes the correct green colored lettering on the fuel/temperature lens and on the oil/battery lens. The clock lens includes the correct diameter hole for the set stem to protrude through.
Application:
1967 Camaro
1967 Firebird
Best Sellers